Stress can affect us in many ways, not only with what we eat but how many times a day we eat. That is why today at Latino Gringos™ we want to explain to you how you can control the relationship between stress and eating since this can become a habit that can harm us in the long term.
Generally, when we are in stressful situations, food can be an escape and we feel comfortable. In stressful situations, the aim is to eat fast foods that are much more stimulating to their taste and gives us the comfort we need; these foods are usually high in carbohydrates and calories such as sweets, sugary drinks, fried foods, and so on.
"It is worth mentioning that a way of leading a stress-free life requires a good diet, regular exercise, and free time to be able to do a hobby of your liking".
Yes, It's much better to take time and add an exercise routine, a hobby than to go look for ways to control your stress by binge eating the wrong foods and avoid the daily work overload and stress that presents itself to you.
However, something that you can also do to alleviate your appetite for stress is to add a small snack between meals a day that helps you catalyze this state, adding healthy foods such as dried fruits like pistachio to walnuts, which will help you replenish energies.
A little dark chocolate, not with milk or sugar, is also very good. You can eat some fruit, its sugar content will be perfect to replace at the time you need it. It is also good that you put aside some drinks that can harm you such as coffee and alcohol and take some infusions or tea that can be very useful to relax and pass the time.
If you like this article, have a comment or suggestion for us, please comment below or send us a message. We would love to hear from you!
To see more articles about these topics or others, keep coming back to Latino Gringos™. Make sure to follow us on our Instagram or Facebook to know when we upload new articles or videos.
If you know anyone that might benefit from our articles, even if they are not Latino, please share with them. We love our Latino community, but also like helping anyone that needs it.
Como controlar la relación entre la comida y el estrés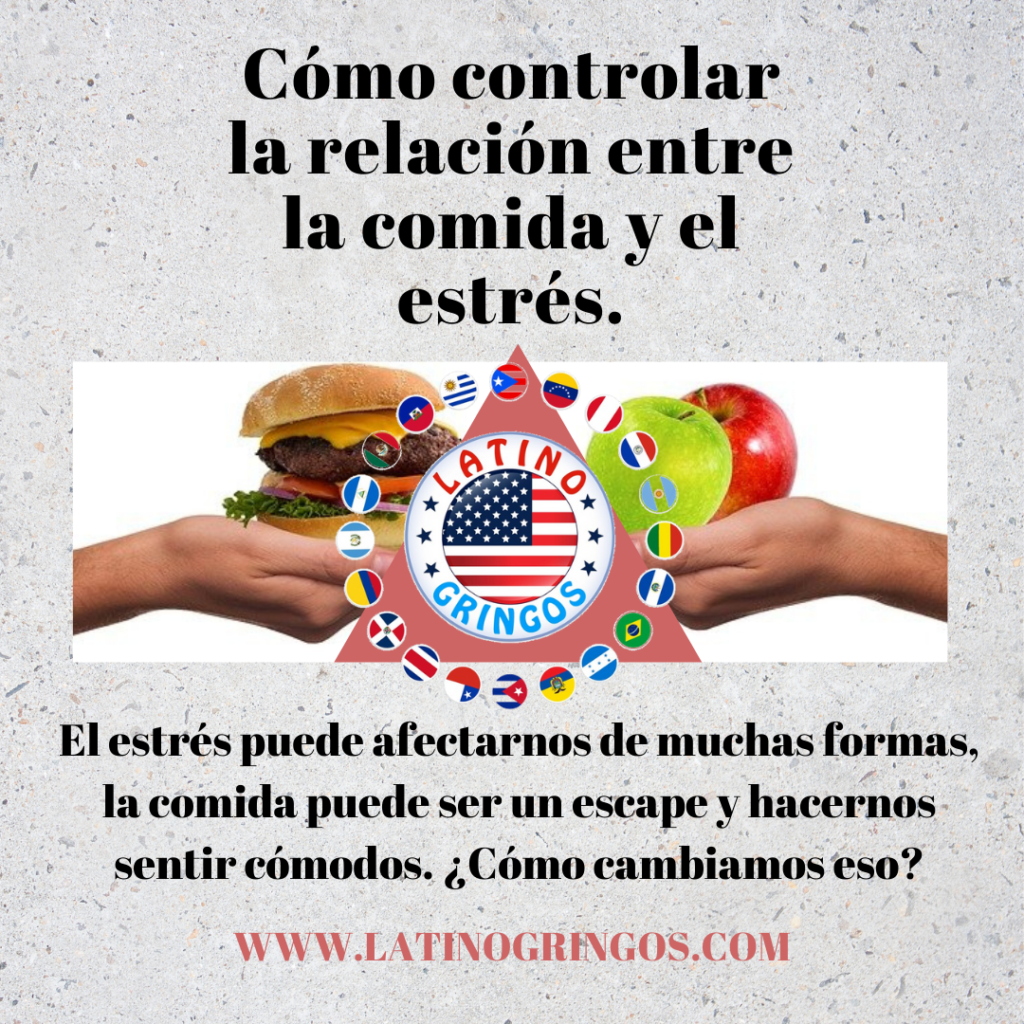 El estrés puede afectarnos de muchas formas, no solo con lo que comen, sino con la cantidad de veces que comen al día. Es por eso que hoy en Latino Gringos ™ queremos explicarte cómo puedes controlar la relación entre el estrés y la alimentación ya que esto puede convertirse en un hábito que puede perjudicarte a largo plazo. Generalmente, cuando estamos en situaciones estresantes, la comida puede ser un escape y hacer que se sientan cómodos.
En situaciones de estrés, el objetivo es ingerir comidas rápidas que sean mucho más estimulantes a su gusto y les brinden ese consuelo que necesitan; Estos alimentos suelen tener un alto contenido de carbohidratos y calorías como dulces, bebidas azucaradas, frituras, etc.
"Cabe mencionar que una forma de llevar una vida libre de estrés requiere una buena alimentación, ejercicio regular y tiempo libre para estar capaz de hacer un pasatiempo de tu agrado". Sí, es mucho mejor tomarse un tiempo y agregar una rutina de ejercicios, un pasatiempo, que buscar formas de controlar su estrés comiendo en exceso los alimentos equivocados y evitar la sobrecarga de trabajo diaria y el estrés que se le presenta.
Sin embargo, algo que también puedes hacer para aliviar tu apetito por el estrés es agregar un pequeño refrigerio entre comidas al día que te ayude a catalizar este estado, agregando alimentos saludables como frutos secos como el pistacho a las nueces, que te ayudarán a reponer energías. Un poco de chocolate amargo, sin leche ni con azúcar, también es muy bueno. Puedes comer algo de fruta, su contenido de azúcar será perfecto para reponer en el momento que lo necesites.
También es bueno que dejes a un lado algunas bebidas que pueden perjudicarte como el café y el alcohol y tomes algunas infusiones o té que pueden ser muy útiles para relajarte y pasar el tiempo.
Si le gusta este artículo, tiene un comentario o sugerencia para nosotros, por favor comente a continuación o envíenos un mensaje. ¡Nos encantaría saber de usted!
Para ver más artículos sobre estos temas u otros, siga visitando Latino Gringos™. Asegúrese de seguirnos en nuestro Instagram o Facebook para saber cuándo cargamos nuevos artículos o vídeos.
Si conoces a alguien que pueda beneficiarse de nuestros artículos, incluso si no son latinos, compártelo con ellos. Amamos a nuestra comunidad latina, pero también nos gusta ayudar a cualquiera que la necesite.