Hyperpigmentation is a common, usually harmless condition in which patches of skin become darker in color than the normal surrounding skin.
This darkening occurs when an excess of melanin, the brown pigment that produces normal skin color, forms deposits in the skin. Hyperpigmentation can affect the color of anyone's skin.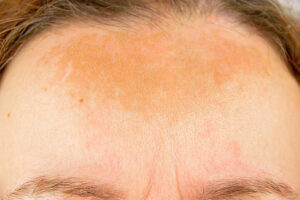 Causes
These are some of the most common causes of hyperpigmentation:
Sun damage. It's no secret that UV rays from the sun are harmful to your skin. In fact, they are responsible for up to 80 percent of the signs of premature skin aging. One of these signs can be hyperpigmentation in form of age spots due to lifelong exposure to the sun.
Chloasma (Melasma). Patches of dark pigmentation, usually on your face, can indicate hormonal changes. It is mostly, but not exclusively, associated with pregnancy hormones. During pregnancy, chloasma is sometimes called the 'mask of pregnancy.
Post-inflammatory hyperpigmentation. When your skin goes through an inflammatory phase, such as acne or eczema, it may go into overdrive and produce these darker spots after it heals.
Medical conditions. In some cases, hyperpigmentation can be a symptom of an underlying medical condition, such as Addison's disease. If you're uncertain about what is causing the hyperpigmentation, it's always best to seek professional help from your doctor or dermatologist.
How to Prevent + Treat
Sun damage is the number one cause of patches of hyperpigmentation, and you can do a lot to prevent sun damage by applying SPF and staying out of direct sunlight. To treat darker skin pigmentation, using products that contain ingredients such as retinol or Niacinamide can help.
Niacinamide Also known as vitamin B3 this powerful skincare ingredient has been clinically proven to reduce the appearance of hyperpigmentation and even skin tone.
Retinol This is one of the most talked-about ingredients of the decade, and retinol can be helpful in reducing the appearance of dark pigmentation spots by speeding up natural skin cell turnover.
Microdermabrasion This is a great treatment that can be done by your licensed esthetician or you can buy a kit that can be done in the comfort of your home. However, they can only be effective in the case that hyperpigmentation occurs in the epidermis, the top layer of the skin.
CC creams Worn under make-up or as a lightweight moisturizer. CC creams help even out your skin tone and conceal hyperpigmented areas.
Vitamin C. Applying a product containing Vitamin C on your skin can help fade marks of hyperpigmentation for a more even-toned complexion.
To see more articles on these topics or others, keep visiting Latino Gringos ™. Make sure to follow us on our Instagram or Facebook to find out when we upload new articles or videos.
If you know someone who can benefit from our articles, even if they are not Latino, please share with them. We love our Latino community, but we also like to help anyone in need.
Hiperpigmentación, una condición común de la piel.
La hiperpigmentación es una afección común, generalmente inofensiva, en la que parches de piel se vuelven más oscuros que la piel normal circundante.
Este oscurecimiento ocurre cuando un exceso de melanina, el pigmento marrón que produce el color normal de la piel, forma depósitos en la piel. La hiperpigmentación puede afectar el color de la piel de cualquier persona.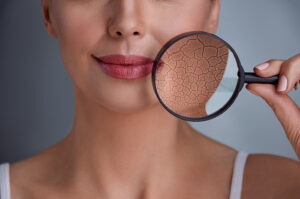 Causas
Estas son algunas de las causas más comunes de hiperpigmentación:
Daño del sol. No es ningún secreto que los rayos ultravioleta del sol son dañinos para la piel. De hecho, son responsables de hasta el 80 por ciento de los signos del envejecimiento prematuro de la piel.
Uno de estos signos puede ser la hiperpigmentación en forma de manchas de la edad debido a la exposición al sol de por vida.
Cloasma (melasma). Las manchas de pigmentación oscura, generalmente en la cara, pueden indicar cambios hormonales.
Se asocia principalmente, pero no exclusivamente, con las hormonas del embarazo. Durante el embarazo, el cloasma a veces se denomina "máscara del embarazo".
Hiperpigmentación posinflamatoria. Cuando la piel atraviesa una fase inflamatoria, como el acné o el eccema, es posible que se acelere y produzca estas manchas más oscuras después de que sane.
Condiciones médicas. En algunos casos, la hiperpigmentación puede ser un síntoma de una afección médica subyacente, como la enfermedad de Addison.
Si no está seguro de la causa de la hiperpigmentación, siempre es mejor buscar ayuda profesional de su médico o dermatólogo.
Como Prevenir + Tratar
El daño solar es la causa número uno de los parches de hiperpigmentación, y puedes hacer mucho para prevenir el daño solar aplicando SPF y manteniéndote alejado de la luz solar directa. Para tratar la pigmentación más oscura de la piel, puede ayudar el uso de productos que contengan ingredientes como retinol o niacinamida.
Niacinamida También conocida como vitamina B3, se ha demostrado clínicamente que este poderoso ingrediente para el cuidado de la piel reduce la apariencia de hiperpigmentación e incluso el tono de la piel.
Retinol Este es uno de los ingredientes más comentados de la década, y el retinol puede ser útil para reducir la aparición de manchas de pigmentación oscura al acelerar la renovación celular natural de la piel.
Microdermoabrasión Este es un gran tratamiento que puede realizar su esteticista autorizado o puede comprar un kit que se puede realizar en la comodidad de su hogar. Sin embargo, solo pueden ser efectivos en el caso de que se produzca hiperpigmentación en la epidermis, la capa superior de la piel.
Cremas CC Se usan debajo del maquillaje o como humectante ligero. Las cremas CC ayudan a igualar el tono de la piel y a ocultar las áreas hiperpigmentadas.
Vitamina C La aplicación de un producto que contenga vitamina C en la piel puede ayudar a atenuar las marcas de hiperpigmentación para lograr un cutis más uniforme.
Para ver más artículos sobre estos temas u otros,  visite Latino Gringos ™. Asegúrese de seguirnos en nuestro Instagram o Facebook para saber cuándo cargamos nuevos artículos o videos.
Si conoces a alguien que pueda beneficiarse de nuestros artículos, incluso si no es latino, compártelo con ellos. Amamos a nuestra comunidad latina, pero también nos gusta ayudar a quienes lo necesiten.
.