Causes Of Excessive Hair Loss
Previously in Latino Gringos™, we had talked about treatments and natural products to prevent alopecia and reduce its evolution. We also mentioned some of the main causes for which many people, including Latinos and Hispanics throughout the world and the Central Florida area, lose hair.
There are a number of factors that can cause an excessive hair loss and today in Latino Gringos, we explain each one.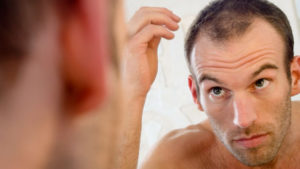 Lack of Trace Elements
The lack of minerals such as calcium, magnesium, zinc, and iron can cause excessive hair loss.
Stress
The suffering of serious illnesses or the submission of serious operations produces an increase of the hair loss; Also emotional stress in Latinos can cause unusual hair loss. In these cases this increase in hair loss is temporary, and once the cause has passed, recovery begins. Hair falls out 2-3 months after the event.
Male Hormones
Male hormones (androgens) promote hair loss. In Latinos, alopecia is produced by testosterone, which passes into DHT, which binds to the receptors of the hair follicles, and can cause hair loss. Androgen-like substances, stress, insufficient fiber, menstrual variations in Latinas also unbalance hormones.
 Hormonal Alterations
Thyroid problems lead to loss of balance in male and female hormones, which alter hair growth and health in Latinos. They are usually resolved with the treatment of the disease. Male hormones or androgens are the ones that contribute the most to permanent hair loss, especially testosterone. An example is that in autumn there is a greater fall of hair than in spring, due to the variation of hours of sunlight, which produces variations in hormones. At menopause in Latinas, an increase in testosterone occurs and hypothyroidism also occurs, leading to hair loss.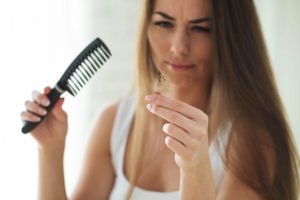 Pregnancy And Childbirth
It is because pregnancy increases the levels of certain hormones, which cause the hair to not fall, and when returning to its normal levels, the fall of this occurs, and the normal cycle begins again.
Medicines
It is solved with the completion of the treatment. Anticoagulants, contraceptives, antidepressants, and those used to treat gout in Latinas, heart problems, or high blood pressure can produce this symptom.
Diseases
Diseases such as lupus or diabetes and also some rare infections.
Humidity
At Latino Gringos™, we care about our people, and we know that some Latinos have a habit of sleeping with wet hair after a shower at night. This action is also a cause of hair loss since excess moisture accelerates hair death.
Oxidants And Reducers
Depending on the pH of the medium, the hair will be affected by oxidants or reducers.
On the other hand, the reducers in this medium hardly act on melanin but break up the keratin bonds, making it possible to mold and change shape.
Solar Radiation
Solar radiation, especially ultraviolet (UV) radiation, damages the hair, as it attacks the hair cuticle, making the hair more exposed to attacks by external agents. In addition, UV radiation also generates free radicals, causing breakage of keratin bonds, making hair more fragile.So you have to take care of the Sun in Orlando and all of Florida.
If you like this article, have a comment or suggestion for us, please comment below or send us a message. We would love to hear from you!
To see more articles about these topics or others, keep coming back to Latino Gringos™. Make sure to follow us on our Instagram  or Facebook to know when we upload new articles or videos.
If you know anyone that might benefit from our articles, even if they are not Latino, please share it with them. We love our Latino community, but also like helping anyone that needs it.
Causas De La Pérdida Excesiva de Cabello
Anteriormente en Latino Gringos™, habíamos hablado sobre los tratamientos y productos naturales para prevenir la alopecia y reducir su evolución. También mencionamos algunas de las causas principales por las cuales muchas personas, incluyendo latinos e hispanos por todo el mundo y el área de Central Florida, pierden cabello.
Hay una serie de factores que pueden generar una caída excesiva de cabello y hoy en Latino Gringos, te explicamos cada una.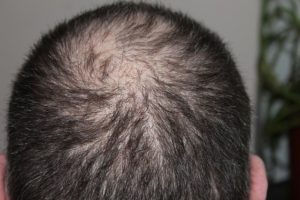 Falta De Oligoelementos
La falta de minerales como el calcio, el magnesio, el zinc y el hierro puede provocar la caída excesiva del cabello.
Estrés
El padecimiento de graves enfermedades o el sometimiento a operaciones graves produce un aumento de la caída del pelo; también el estrés emocional en los latinos puede producir una caída inusual de cabello. En estos casos es pasajero este aumento de la caída del pelo, y una vez que pasa la causa, la recuperación comienza. Suele caerse el cabello a los 2-3 meses del acontecimiento.
Hormonas masculinas
Las hormonas masculinas (andrógenos) promueven la caída del cabello. En los latinos, la alopecia se produce por la testosterona, que pasa a DHT, el cual se une a los receptores de los folículos capilares, pudiendo producir la caída del cabello. Sustancias similares a andrógenos, estrés, fibra insuficiente, variaciones menstruales en las latinas también desequilibran las hormonas.
 Alteraciones Hormonales
Los problemas de tiroides dan lugar a pérdida de equilibrio en hormonas masculinas y femeninas, que alteran el crecimiento y la salud del pelo en los latinos. Normalmente se solucionan con el tratamiento de la enfermedad. Las hormonas masculinas o andrógenos son los que más contribuyen a la caída definitiva del cabello, sobre todo la testosterona. Un ejemplo es que en otoño se produce una mayor caída del cabello que en primavera, debido a la variación de horas de sol, que produce variaciones en las hormonas. En la menopausia en las latinas, se produce un aumento de testosterona y también se produce hipotiroidismo, lo que produce la caída del cabello.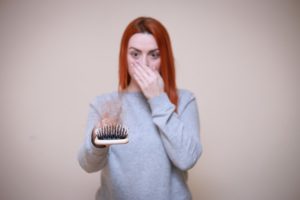 Embarazo Y Parto
Se debe a que en el embarazo aumenta los niveles de ciertas hormonas, que hacen que se caiga el pelo, y al volver a sus niveles normales, se produce la caída de este, y ya comienza el ciclo normal de nuevo.
Medicamentos
Se soluciona al terminar el tratamiento. Puede producir este síntoma los anticoagulantes, anticonceptivos, antidepresivos y aquellos usados para tratar la gota en las latinas, problemas de corazón o presión arterial alta.
Enfermedades
Enfermedades como el lupus o la diabetes y algunas infecciones poco comunes.
Humedad
En Latino Gringos nos preocupamos por nuestra gente, y sabemos que algunos latinos tienen la costumbre de dormir con el pelo mojado luego de una ducha por la noche. Esta acción es también una causa de caída del cabello, ya que un exceso de humedad acelera la muerte del cabello.
Oxidantes Y Reductores
Según el pH del medio, el cabello se verá afectado por los oxidantes o reductores.
Por otro lado, los reductores en este medio apenas actúan sobre la melanina pero disgregan los enlaces de la queratina, haciendo que se pueda moldear y cambiar de forma.
Radiación Solar
La radiación solar, sobre todo la radiación ultravioleta (UV), dañan el cabello, ya que ataca a la cutícula del cabello, haciendo que el cabello esté más expuesto a los ataques de los agentes externos. Además, la radiación UV también generan radicales libres, produciendo la rotura de los enlaces de Keratina, haciendo que el cabello sea más frágil. Así que hay que cuidarse del Sol en Orlando y toda Florida.
Si le gusta este artículo, tiene un comentario o sugerencia para nosotros, por favor comente a continuación o envíenos un mensaje. ¡Nos encantaría saber de ti!
Para ver más artículos sobre estos temas u otros, siga visitando Latino Gringos ™. Asegúrese de seguirnos en nuestro Instagram o Facebook para saber cuándo cargamos nuevos artículos o vídeos.
Si conoces a alguien que pueda beneficiarse de nuestros artículos, incluso si no son latinos, compártelo con ellos. Amamos a nuestra comunidad latina, pero también nos gusta ayudar a cualquiera que la necesite.