Immune System in the Elderly
As we age, our immune response capability becomes reduced, which in turn contributes to more infections and other diseases. As life expectancy in developed countries has increased, so too has the incidence of age-related conditions.
While some people age healthily, the conclusion of many studies is that, compared with younger people, the elderly are more likely to contract infectious diseases and, even more importantly, more likely to die from them. Respiratory infections, including, the Flu and particularly pneumonia are a leading cause of death in people over 65 worldwide. No one knows for sure why this happens, but some scientists observe that this increased risk correlates with a decrease in T cells, possibly from the thymus atrophying with age and producing fewer T cells to fight off infection. Whether this decrease in thymus function explains the drop in T cells or whether other changes play a role is not fully understood. Others are interested in whether the bone marrow becomes less efficient at producing the stem cells that give rise to the cells of the immune system.
There appears to be a connection between nutrition and immunity in the elderly. A form of malnutrition that is surprisingly common even in affluent countries is known as "micronutrient malnutrition." Micronutrient malnutrition, in which a person is deficient in some essential vitamins and trace minerals that are obtained from or supplemented by diet, can happen in the elderly. Older people tend to eat less and often have less variety in their diets. One important question is whether dietary supplements may help older people maintain a healthier immune system. Older people should discuss this question with their doctor.
To see more articles about these topics or others, keep coming back to Latino Gringos™. Make sure to follow us on our Instagram or Facebook to know when we upload new articles or videos.
If you know anyone that might benefit from our articles, even if they are not Latino, please share with them. We love our Latino community, but also like helping anyone that needs it.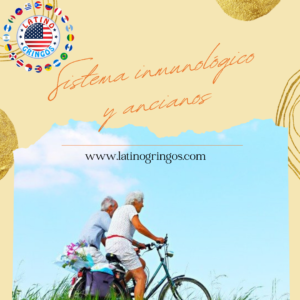 Sistema Inmunologico y los Ancianos
A medida que envejecemos, nuestra capacidad de respuesta inmunitaria se reduce, lo que a su vez contribuye a más infecciones y otras enfermedades. A medida que ha aumentado la esperanza de vida en los países desarrollados, también lo ha hecho la incidencia de enfermedades relacionadas con la edad.
Si bien algunas personas envejecen de manera saludable, la conclusión de muchos estudios es que, en comparación con las personas más jóvenes, los ancianos tienen más probabilidades de contraer enfermedades infecciosas y, lo que es más importante, más probabilidades de morir a causa de ellas. Las infecciones respiratorias, incluida la gripe y, en particular, la neumonía, son una de las principales causas de muerte en personas mayores de 65 años en todo el mundo. Nadie sabe con certeza por qué sucede esto, pero algunos científicos observan que este mayor riesgo se correlaciona con una disminución de las células T, posiblemente debido a que el organismo se atrofia con la edad y produce menos células T para combatir las infecciones. No se comprende completamente si esta disminución en la función del timo explica la disminución de las células T o si otros cambios juegan un papel. Otros están interesados ​​en saber si la médula ósea se vuelve menos eficiente para producir las células madre que dan lugar a las células del sistema inmunológico.
Parece haber una conexión entre la nutrición y la inmunidad en los ancianos. Una forma de desnutrición que es sorprendentemente común incluso en países ricos se conoce como "desnutrición de micronutrientes". La desnutrición de micronutrientes, en la que una persona tiene deficiencia de algunas vitaminas esenciales y oligoelementos que se obtienen o complementan con la dieta, puede ocurrir en los ancianos. Las personas mayores tienden a comer menos y a menudo tienen menos variedad en sus dietas. Una pregunta importante es si los suplementos dietéticos pueden ayudar a las personas mayores a mantener un sistema inmunológico más saludable. Las personas mayores deben discutir esta cuestión con su médico.
Para ver más artículos sobre estos temas u otros, vuelva a Latino Gringos ™. Asegúrese de seguirnos en nuestro Instagram o Facebook para saber cuándo cargamos nuevos artículos o videos.
Si conoces a alguien que pueda beneficiarse de nuestros artículos, incluso si no es latino, compártelo con ellos. Amamos a nuestra comunidad latina, pero también nos gusta ayudar a cualquiera que lo necesite.