Here at Latino Gringos Betzy's beauty blog, we like to show you the best ways to take care of your skin naturally. Here are a few natural ingredients found right in your kitchen cabinet that can help anyone take care of the skin without breaking your wallet.
Coconut Oil

Its benefits have become so popular that it seems to be everywhere, and for a good reason. Coconut oil is jam-packed with antioxidants, moisturizing fatty acids, and antibacterial, antifungal properties. Coconut oil should become a priority in your natural beauty regimen. You can pretty much put it anywhere, except in your eyes, and get some sort of benefit. Looking for natural shaving cream? Or an eyelash growth serum? Or maybe a whitening toothpaste? Coconut oil is the answer to all your beauty problems. The best part is, it can use straight from the jar.

Lemons

Lemons have an antibacterial nature. This helps lemons act as a skin cleanser and exfoliator. Because of the high acid content of lemons diluted lemon juice using water or oil is more beneficial to avoid irritating or burning skin cells. Additionally, lemons are high in vitamin C. Vitamin C significantly helps produce collagen, rejuvenating the health and appearance of the skin. Collagen is required for every skin cell to form and function properly. The antioxidative vitamin C from lemons can help fight skin damage caused by the sun and pollution, reduce wrinkles, and improve overall skin texture.

Rose Water

Rosewater has beautifying benefits when drank or applied topically. In addition to aloe vera, Cleopatra was a true believer in rose water to keep her skin soft and supple. Applying rose water as a toner benefits the skin even oily skin. This is because its properties include controlling sebum production without the harshness of chemicals. Rosewater is rich in vitamins E and A. This is significant for moisturizing and brightening skin. The vitamins work together to remove dead skin cells, allowing new cells to flourish. Apply rose water to lips using a cotton swab every night to nourish and stimulate blood flow in the lips to give it a natural Rosie color.

Tea Tree Oil

Initially, the aboriginals of Australia extracted tea tree oil, a volatile essential oil, from the native plant Melaleuca alternifolia for its antimicrobial properties almost 100 years ago. Nowadays, tea tree oil is used as an active ingredient in many beauty products. Tea tree oil makes for a perfect antibacterial and odor-reducing alternative to commercial deodorant. The primary ingredient responsible for relieving symptoms of dandruff, psoriasis, and itchy scalp is terpinene-4-ol. Terpinene-4-ol oxidizes rapidly when exposed to light. Make sure to buy oil packaged in dark glass bottles for the highest quality product.

Oatmeal

Did you know oatmeal is not only used for breakfast? You can cleanse your face using oatmeal and warm water because oats contain saponins, a phytochemical that removes oil and dirt. Make oatmeal part of your bathtime ritual. Soak in and relax in a warm bath with a cup of oatmeal or fill cheesecloth with half a cup of oatmeal and two tablespoons of honey for a natural moisturizing bath. Dermatologist experts say oatmeal soaks can relieve itchy, dry skin while normalizing the skin's pH levels.

If you liked this article, make sure to see part 2 at https://latinogringos.com/natural-beauty5-…en-cabinetpart-2/
Belleza natural, los 5 mejores productos de belleza en tu gabinete de cocina (Parte 1)
Aquí en el Blog de Betzy de Belleza de Latino Gringos , nos gusta mostrarte las mejores maneras de cuidar tu piel de forma natural. Aquí hay algunos ingredientes naturales que se encuentran en el gabinete de su cocina que pueden ayudar a cualquier persona a cuidar la piel y no arruinarán su billetera.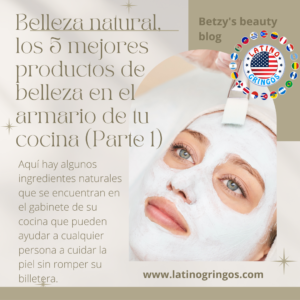 1. Aceite de coco
Sus beneficios se han vuelto tan populares que parece estar en todas partes, y por una buena razón. El aceite de coco está repleto de antioxidantes, ácidos grasos hidratantes y propiedades antibacterianas y antifúngicas. El aceite de coco debe convertirse en una prioridad en tu régimen de belleza natural. Puedes ponerlo prácticamente en cualquier lugar, excepto en tus ojos, y obtener algún tipo de beneficio. ¿Buscas crema de afeitar natural? ¿O un sérum para el crecimiento de pestañas? ¿O tal vez una pasta de dientes blanqueadora? El aceite de coco es la respuesta a todos tus problemas de belleza. La mejor parte es que se puede usar directamente del frasco.
2. Limones
Los limones tienen una naturaleza antibacteriana. Esto ayuda a que los limones actúen como limpiadores y exfoliantes para la piel. Debido al alto contenido de ácido de los limones, el jugo de limón diluido con agua o aceite es más beneficioso para evitar irritar o quemar las células de la piel. Además, los limones son ricos en vitamina C. La vitamina C ayuda significativamente a producir colágeno, rejuveneciendo la salud y la apariencia de la piel. El colágeno es necesario para que cada célula de la piel se forme y funcione correctamente. La vitamina C antioxidante de los limones puede ayudar a combatir el daño de la piel causado por el sol y la contaminación, reducir las arrugas y mejorar la textura general de la piel.
3. Agua de rosas
El agua de rosas tiene beneficios embellecedores cuando se bebe o se aplica tópicamente. Además del aloe vera, Cleopatra creía firmemente en el agua de rosas para mantener su piel suave y flexible. La aplicación de agua de rosas como tónico beneficia a la piel incluso a las pieles grasas. Esto se debe a que sus propiedades incluyen el control de la producción de sebo sin la dureza de los productos químicos. El agua de rosas es rica en vitaminas E y A. Esto es importante para hidratar y aclarar la piel. Las vitaminas trabajan juntas para eliminar las células muertas de la piel, lo que permite que florezcan nuevas células. Aplique agua de rosas en los labios con un hisopo de algodón todas las noches para nutrir y estimular el flujo sanguíneo en los labios para darles un color Rosie natural.
4. Aceite de árbol de té
Inicialmente, los aborígenes de Australia extrajeron el aceite del árbol del té, un aceite esencial volátil, de la planta nativa Melaleuca alternifolia por sus propiedades antimicrobianas hace casi 100 años. Hoy en día, el aceite de árbol de té se utiliza como ingrediente activo en muchos productos de belleza. El aceite de árbol de té es una alternativa antibacteriana y reductora de olores perfecta al desodorante comercial. El ingrediente principal responsable de aliviar los síntomas de la caspa, la psoriasis y la picazón en el cuero cabelludo es el terpineno-4-ol. El terpineno-4-ol se oxida rápidamente cuando se expone a la luz. Asegúrese de comprar aceite envasado en botellas de vidrio oscuro para obtener un producto de la más alta calidad.
5. Avena
¿Sabías que la avena no solo se usa para el desayuno? Puedes limpiar tu rostro con avena y agua tibia porque la avena contiene saponinas, un fitoquímico que elimina la grasa y la suciedad. Haz que la avena forme parte de tu ritual a la hora del baño. Sumérjase y relájese en un baño tibio con una taza de avena o llene una gasa con media taza de avena y dos cucharadas de miel para un baño humectante natural. Los expertos dermatólogos dicen que los baños de avena pueden aliviar la picazón y la piel seca mientras normalizan los niveles de pH de la piel.
Si te gustó este artículo, asegúrate de ver la parte 2 en https://latinogringos.com/natural-beauty5-…en-cabinetpart-2/