Another Quick, Healthy and Easy Recipe: Chickpea Vegan Casserole
Vegan chickpea casserole with potatoes, green beans, squash, peppers, carrot, onion, and garlic. An ideal recipe good at anytime.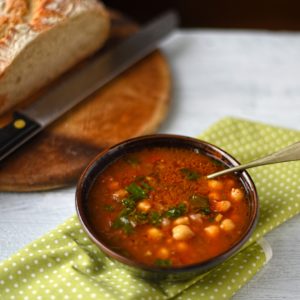 Ingredients :
300gr of chickpeas
250gr of green beans
3 carrots
200gr of pumpkin
2 potatoes
2 ripe tomatoes
1 green pepper
1 onion,
200gr of almonds
1 tablespoon of vinegar
1 slice of bread
1 head of garlic
1 laurel leaf
Preparation :
Let the chickpeas to soak overnight, if they are fresh and not from the can in water already. The next day, drain and put the chickpeas in a pot with the tomatoes peeled and cut in half, onion, pepper, and carrots all cut into pieces.
The head of garlic is cleaned and added to the pot. The green beans are removed; we chop them and also the pot with a bay leaf and a drizzle of olive oil. Add water to cover the ingredients and heat the pot on high heat until boiling. Once it boils, reduce heat to medium.
While cooking, peel and cut the squash and potatoes. We reserve the pieces of pumpkin and potato for the end of the cooking.
In a bowl we put the slice of bread dipped in vinegar together with the almonds and some strands of saffron. We blend everything well.
When the chickpeas begin to be tender we add the pumpkin and 5 minutes later the potatoes and the mortar of the mortar. Season and let boil between 15 and 20 minutes more. In the end, there should be a little broth left. Delicious!
If you like this article, have a comment or suggestion for us, please comment below or send us a message. We would love to hear from you!
To see more articles about these topics or others, keep coming back to Latino Gringos™. Make sure to follow us on our Instagram  or Facebook to know when we upload new articles or videos.
If you know anyone that might benefit from our articles, even if they are not Latino, please share it with them. We love our Latino community, but also like helping anyone that needs it.
Otra receta rápida, saludable y fácil: cazuela vegana de garbanzos
Cazuela vegana de garbanzos con papas, judías verdes, calabaza, pimientos, zanahoria, cebolla y ajo. Una receta ideal buena en cualquier momento.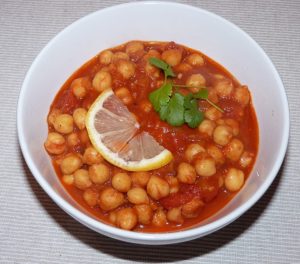 Cazuela vegana de garbanzos
Ingredientes:
300gr de garbanzos
250gr de judías verdes
3 zanahorias
200gr de calabaza
2 papas
2 tomates maduros
1 pimiento verde
1 cebolla,
200gr de almendras
1 cucharada de vinagre
1 rebanada de pan
1 cabeza de ajos
1 hoja de laurel
Preparación:
Deje los garbanzos en remojo durante la noche, si están frescos y no son enlatados. Al día siguiente, escurra y ponga los garbanzos en una olla con los tomates pelados y cortados por la mitad, la cebolla, el pimiento y las zanahorias cortados en trozos.
La cabeza de ajo se pela y se agrega a la olla. Se agregan las judías verdes; los picamos con una hoja de laurel y una llovizna de aceite de oliva. Agregue agua para cubrir los ingredientes y caliente la olla a fuego alto hasta que hierva. Una vez que hierva, reduzca el fuego a medio.
Mientras cocina, pele y corte la calabaza y las papas. Reservamos los trozos de calabaza y papa para el final de la cocción.
En un tazón ponemos la rebanada de pan bañada en vinagre junto con las almendras y algunas hebras de azafrán. Mezclamos todo bien.
Cuando los garbanzos comienzan a estar tiernos, agregamos la calabaza y 5 minutos después las papas. Sazone y deje hervir entre 15 y 20 minutos más. Al final, debería quedar un poco de caldo. ¡Delicioso!
Si le gusta este artículo, tiene un comentario o sugerencia para nosotros, por favor comente a continuación o envíenos un mensaje. ¡Nos encantaría saber de usted!
Para ver más artículos sobre estos temas u otros, siga visitando Latino Gringos ™. Asegúrese de seguirnos en nuestro Instagram  o Facebook para saber cuándo cargamos nuevos artículos o videos.
Si conoces a alguien que pueda beneficiarse de nuestros artículos, incluso si no son latinos, compártelo con ellos. Amamos a nuestra comunidad latina, pero también nos gusta ayudar a cualquiera que la necesite.