Sugar free cinnamon rolls recipe
In our blog we have added different vegetarian recipes to promote a healthy diet in our readers, however, today we are going to break the mold by showing you this dessert so that you can enjoy it in a quiet afternoon with your family and friends, which will also do without sugar To cut calories, without further ado, let's do it:     
Ingredients for the roles:
80 grams of almond flour
2 tablespoons cream cheese
1 teaspoon baking powder
200 grams of mozzarella cheese
1 egg
1 tablespoon of sweetener
Ingredients for the stuffing:
2 tablespoons ground cinnamon
2 tablespoons of sweetener
2 tablespoons of water
    preparation: First, we are going to mix in a container, after grating, the mozarella cheese with the cream cheese, we will place this mixture in the microwave for about 25 seconds, then we stir until both ingredients are completely mixed.
In another container we combine the almond flour, the sweetener and the baking powder, stirring everything and adding at the end to the cheese mixture, adding an egg and mixing everything.
Stir until the dough is compacted, now you must knead manually to finish unifying. On waxed paper, start rolling out rolls with the help of a rolling pin, forming sticks with the dough, you can make this recipe about 8 servings.
In another container, mix the cinnamon, water and sweetener to obtain the filling, adding it with a small brush in the dough and rolling it so that the filling is on the inside. On an oiled tray, bake them at 180 degrees for about 20 minutes to cook through.
Once ready, you can add some glazed cheese on top as a topping, an extra option is to melt some panela with water and pour it over the rolls, which will give them a sweeter but delicious topping.
To see more articles about these topics or others, keep coming back to Latino Gringos™. Make sure to follow us on our Instagram or Facebook to know when we upload new articles or videos.
If you know anyone that might benefit from our articles, even if they are not Latino, please share with them. We love our Latino community, but also like helping anyone that needs it.  
Receta de roles de canela sin azúcar
En nuestro blog hemos agregado diferentes recetas vegetarianas para promover una dieta saludable en nuestros lectores, no obstante, hoy vamos a romper el molde enseñándote este postre para que puedas disfrutarlo en una tarde tranquila con tu familia y amigos, el cual además prescindirá de la azúcar para reducir las calorías, sin más que decir, vamos a ello:     
Ingredientes para los roles:
80 gramos de harina de almendra
2 cucharadas de queso crema
1 cucharadita de polvo para hornear
200 gramos de queso mozzarella
1 huevo
1 cucharada de edulcorante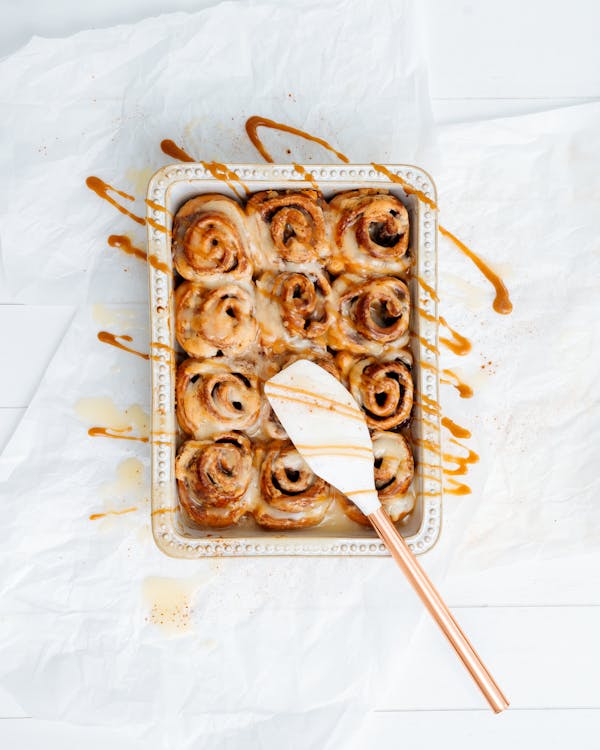 Ingredientes para el relleno:
2 cucharadas de canela en polvo
2 cucharadas de edulcorante
2 cucharadas de agua
    Preparación: Primero, vamos a mezclar en un recipiente, luego de rayar, el queso mozarella con el queso crema, esta mezcla la colocaremos en el microondas alrededor de 25 segundos, luego revolvemos hasta que que ambos ingredientes queden totalmente mezclados.
En otro recipiente unimos la harina de almendra, el edulcorante y el polvo para hornear, removiendo todo y añadiendo al final a la mezcla de los quesos, añadiendo un huevo y mexclando todo.
Remueve hasta que la masa se compacte, ahora deberas amasar manualmente para terminar de unificar. Sobre papel encerado, comienza a extender rollos con ayuda de un rodillo, formando palitos con la masa, puedes rendir esta receta alrededor de 8 porciones.
En otro recipiente mezcla la canela, el agua y edulcorante para obtener el relleno, agregándolo con una brocha pequeña en la masa y enrollándola de forma que el relleno quede en la parte interna.
En una bandeja aceitada, metelos en el horno a 180 grados durante aproximadamente 20 minutos para que se cocinen bien. Una vez listos, puedes añadir algo de queso glaseado arriba como cobertura, una opción extra es derretir un poco de panela con agua y verterla por encima de los roles, lo que les dará una cobertura más dulce pero deliciosa.
Para ver más artículos sobre estos temas u otros, siga visitando Latino Gringos™. Asegúrese de seguirnos en nuestro Instagram o Facebook para saber cuándo cargamos nuevos artículos o vídeos.
Si conoces a alguien que pueda beneficiarse de nuestros artículos, incluso si no son latinos, compártelo con ellos. Amamos a nuestra comunidad latina, pero también nos gusta ayudar a cualquiera que la necesite.