Puerto Rican population in Orange, Osceola jumps 12.5% after Hurricane Maria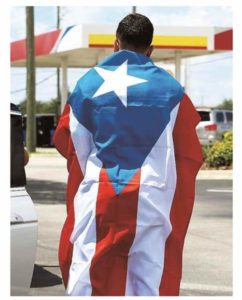 At Latino Gringos™, it is never about competition, especially between Latino and Hispanic countries. We just notice some interesting statistics and like to share what we find. Generally, Latinos in Florida all get along and realize that we are much better united, no matter political differences or other ideas imposed by society.
That being said, here is just an interesting story about population changes in Florida.
Currently, about 1 million Puerto Ricans live in the Sunshine State. From 2000 to 2014, the number of Puerto Ricans increased by 94 percent, while the number of Cubans in Florida increased by 60 percent. Orange County alone contains 18 percent of the Puerto Rican population of Florida.
This dramatic influx of Puerto Ricans from the island is mainly in response to the commonwealth's severe and ongoing economic crisis, solidifying what many are referring to as the Second Great Puerto Rican Migration; the first came after World War II," the report says. "Facing limited opportunities at home, individuals and families are choosing to relocate to Florida, in particular, Central Florida, instead of the Northeast."
Migrants from Puerto Rico predominantly settled in Central and South Florida; the majority of counties in North Florida, in contrast, received fewer than 100 migrants on average per year. In fact, more than two-thirds of all migrants from Puerto Rico to Florida moved to Central Florida, followed by South Florida (about 20%). Puerto Ricans are attracted to Central Florida due to the large population of Puerto Ricans already living in the area; the education system, job opportunities, and relatively inexpensive housing are further attractors. Orange County recorded the largest inflow of Puerto Ricans of all Florida counties between 2005 and 2016, followed by Osceola and Hillsborough counties. Rounding out the top five are Miami-Dade and Broward counties in South Florida.
Politically, this could mean changes in Florida. Cubans in the state lean Republican, while Puerto Ricans typically go toward the Democratic side, but that's not set in stone. The report shows 30 percent of Latinos in Orlando, Tampa, and Central Florida say they aren't affiliated with a political party, and in that same group, a third of them were not registered to vote.
While Florida is known for its senior population, Latino communities in Orlando, Tampa, and Central Florida are dominated by millennials. Close to half of the Latino population in Orlando is made up of young adults ages 18 to 34.
If you like this article, have a comment or suggestion for us, please comment below or send us a message. We would love to hear from you!
To see more articles about these topics or others, keep coming back to Latino Gringos™. Make sure to follow us on our Instagram  or Facebook to know when we upload new articles or videos.
If you know anyone that might benefit from our articles, even if they are not Latino, please share it with them. We love our Latino community, but also like helping anyone that needs it.
La población puertorriqueña en Orange, Osceola salta 12.5% ​​después del huracán María
En Latino Gringos ™, nunca se trata de competencia, especialmente entre países latinos e hispanos. Solo notamos algunas estadísticas interesantes y nos gusta compartir lo que encontramos. En general, los latinos en Florida se llevan bien y se dan cuenta de que estamos mucho mejor unidos, sin importar las diferencias políticas u otras ideas impuestas por la sociedad.
Dicho esto, esta es solo una historia interesante sobre los cambios de población en Florida.
Actualmente, aproximadamente 1 millón de puertorriqueños viven en el estado del sol. De 2000 a 2014, el número de puertorriqueños aumentó en un 94 por ciento, mientras que el número de cubanos en Florida aumentó en un 60 por ciento. Solo el Condado de Orange contiene el 18 por ciento de la población puertorriqueña de Florida.
Esta dramática afluencia de puertorriqueños desde la isla se debe principalmente a la grave y continua crisis económica del Estado, que solidifica lo que muchos se refieren como la Segunda Gran Migración Puertorriqueña; el primero llegó después de la Segunda Guerra Mundial ", dice el informe." Frente a las oportunidades limitadas en el hogar, las personas y las familias eligen mudarse a Florida, en particular, Florida Central, en lugar del Noreste ".
Los migrantes de Puerto Rico se establecieron predominantemente en el centro y sur de Florida; la mayoría de los condados en el norte de Florida, en contraste, recibieron menos de 100 migrantes en promedio por año. De hecho, más de dos tercios de todos los migrantes de Puerto Rico a Florida se mudaron a Florida central, seguidos por el sur de Florida (alrededor del 20%). Los puertorriqueños se sienten atraídos por la Florida Central debido a la gran población de puertorriqueños que ya viven en el área; El sistema educativo, las oportunidades de trabajo y la vivienda relativamente barata son otros atractivos. El Condado de Orange registró la mayor afluencia de puertorriqueños de todos los condados de Florida entre 2005 y 2016, seguido de los condados de Osceola y Hillsborough. Completan los cinco primeros condados de Miami-Dade y Broward en el sur de Florida.
Políticamente, esto podría significar cambios en Florida. Los cubanos en el estado se inclinan por los republicanos, mientras que los puertorriqueños suelen ir hacia el lado demócrata, pero eso no está escrito en piedra. El informe muestra que el 30 por ciento de los latinos en Orlando, Tampa y Florida Central dicen que no están afiliados a un partido político, y en ese mismo grupo, un tercio de ellos no estaban registrados para votar.
Si bien Florida es conocida por su población de adultos mayores, las comunidades latinas en Orlando, Tampa y Florida central están dominadas por la generación del milenio. Cerca de la mitad de la población latina en Orlando está compuesta por adultos jóvenes de entre 18 y 34 años.
Si le gusta este artículo, tiene un comentario o sugerencia para nosotros, por favor comente a continuación o envíenos un mensaje. ¡Nos encantaría saber de usted!
Para ver más artículos sobre estos temas u otros, siga visitando Latino Gringos ™. Asegúrese de seguirnos en nuestro Instagram  o Facebook para saber cuándo cargamos nuevos artículos o videos.
Si conoces a alguien que pueda beneficiarse de nuestros artículos, incluso si no son latinos, compártelo con ellos. Amamos a nuestra comunidad latina, pero también nos gusta ayudar a cualquiera que la necesite.